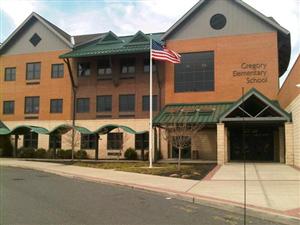 The Gregory School community is made up of approximately 750 students, over 100 staff members, and YOU, our parents and guardians. This impressive state-of-the-art facility was established in the year 2007 and is home to students in Kindergarten through fifth grade. Our vision at the Gregory School is to inspire students to succeed and grow to their highest potential by providing a safe, nurturing, and challenging learning environment.
The mission of our district and school is to strive to meet and exceed the standards set forth by the State of New Jersey. Our goal is to provide each student with meaningful and motivating educational experiences so that they are successful in achieving grade level standards; are graduate ready for college or a career and to contribute positively to society.
Gregory School maintains a high standard of commitment to the students and to academic excellence. Students experience the core curriculum in all subject areas to meet their individual learning needs. Special needs students are involved in programs and services that allow them to reach their highest potential while their individual needs are met in the least restrictive environment. Gregory School has during, and after school programs that allow all students to learn how to problem solve and think critically and creatively.
Our school encompasses two unique programs: the Metropolis Magnet and Gifted programs. All students who attend the Gregory School begin their magnet education in Kindergarten focusing on Metropolis and are taught the responsibility for the local community and the world. The Metropolis Magnet simulates a community that is generated and managed by students and teachers. There are three distinct strands in this magnet program: Government, Publishing and Economics.
Through the Metropolis magnet, Government Strand students at the Gregory School, "Get Involved" and focus on the importance of being a viable member of a community. These activities that have been created and carried out focus on social responsibility and provide opportunities for us to help others within the community. We believe that students who learn how to take care of their communities and their world will carry those lessons of kindness and understanding throughout their lives. The teachers at the Gregory School teach students about the importance of social responsibility. Current and past Metropolis activities include: 9/11 Remembrance and Patriotic Assembly, donating pennies for our "Pennies for People", collecting supplies and writing letters to our soldiers overseas, creating cards and letters for the patients in the pediatric center at Monmouth Medical Center. Teachers make each activity significant for the students by stating a purpose as they do something to help the community and the world in which they live.
The Publishing strand focuses on the production of a school newspaper. Students collaborate on stories, pictures and areas of interests for their paper. Students are also responsible for interviewing and fact-finding their stories.The Economics strand emphasizes the manufacturing of goods to be sold on Market Days. This enables student understanding of how supply and demand drives our economy. They learn through product scarcity, mass production, assembly line, and the various elements involved in marketing a quality product.
The staff at the Gregory School plan and develop lessons that are aligned with New Jersey and Common Core State Standards. The Common Core State Standards were developed based upon the most effective models from states across the country and countries around the world. They are written in a clear and concise manner. This provides teachers and parents with a common understanding of what knowledge and skills students are expected to learn to successfully graduate high school and be prepared for college and the workplace.
The 2013-2014 school year will be the second year of our district's research-based Reading Language Arts Literacy program, Treasures. Students enjoy expository and narrative literature that is level appropriate, rich, and meaningful through differentiated based centers. Everyday our Gregory students practice newly learned skills using technology, and apply and expand on their writing skills.
Everyday Math program is a focused curriculum, with each standard being fully developed and mastered at the appropriate grade level according to the Common Core Standards. It is a researched based program developed at the University Of Chicago School Of Mathematics. It centers on real world, age-appropriate contexts by incorporating individual, partner, and small group activities that make it possible for our teachers to provide individualized feedback and assistance.
The Harcourt Science Program was developed to completely engage students as they learn science. Students participate in investigations and project-based learning activities. During these investigations, students work in cooperative learning teams engaging in higher order thinking and applying their problem solving skills. Think Central, HSP/Harcourt curriculum website provides multiple resources for students including grade level science books, video podcasts, educational games and additional websites to enhance students' learning on the topics discussed in the classroom.
Our high tech computer lab contains student desktop computers, multimedia equipment, and a teacher's personal computer. Quality software and Internet programs are utilized for teaching purposes. Two of the many Internet programs used to enhance instruction at the Gregory School are: Achieve 3000 and Study Island.
Study Island is an Internet based program designed to help children master the standards specific to their individual grade level. The focus of Study Island is to enable students to improve their performance in reading, writing and math. Achieve 3000 is an online differentiated literacy instruction solution that reaches every student at his or her reading level. This program allows students to read non-fiction content based on their reading level. Both programs closely align with objectives of the Common Core State Standards to give students the content area literacy skills they need to succeed on the standards and prepare them for the rigors of instruction and increase complexity in text. These programs are used for all students in Grades 2 through 5 here at the Gregory School.
All classrooms have a multimedia instructional workstation with network capabilities allowing for Internet utilization to support instruction. Student computers are located in each classroom to provide opportunities to integrate technology across content areas. Each classroom at the Gregory School has up to five student computers, an LCD projector and a pull-down screen. It also has a SMART Slate. The SMART Slate is a wireless slate that allows a digital connection between the computer and the projector. This delivers new possibilities to classroom instruction and student learning, giving teachers and students the freedom to interact with digital content from anywhere in the room.
All third, fourth and fifth grade students are equipped with Samsung Tablets. All tablets have Internet access through the school filter, which have been programmed onto them. With wireless Internet access on the tablets, the school is able to receive daily reports on students' progress, and students can complete assignments from anywhere within the building. In addition to the tablets, all fifth grade students also have access to wireless laptops.
Computer technology is an essential learning tool at the Gregory School; the teacher no longer serves as the sole expert with control over content knowledge and instruction. With the help of technology, the teacher is a facilitator of learning, and students have more of an active role in their learning. When teachers have the tools to implement technology, students have the opportunity to develop higher order thinking skills through integration of computers and scientific inquiry. With the use of Study Island, Achieve 3000, Samsung Tablets, SMART technology, projection equipment, and individual teacher workstations, students at the Gregory School are able to utilize technology that will assist them with their present to be better prepared for their future.
The Gregory School "Solutions Team" is an element of the Success for All Program. The Solutions Team provides students with coping methods and interventions. This includes and is not limited to attendance, parental involvement, community connections and culture. The purpose of the Solutions Team is to move every student towards success through a collaborative approach that is supported by best practices.
Students at the Gregory School are dedicated to becoming functioning individuals in society. Throughout the school year, students are recognized for demonstrating good character traits. A school wide "Student of the Month" recognition takes place and promotes positive leadership and good character traits. Students are educated daily through Project Widsom's, "Words of Wisdom" read each morning. A daily theme is announced and it is explained through a short story or analogy. Students are additionally rewarded for showing "Positive Power" whether it be an action towards a student or adult within the school building.
Our commitment and dedication is to our Gregory students, where individuals will become life long learners and exceed expectations."We make a living by what we get, but we make a life by what we give." ~ Sir Winston Churchill (1874-1965)